Bring honor and pride in your next ideal birthday or baby shower party with beautiful Mulan invitations. The strong-willed heroine of China portrays the ideals such as beauty, strength, and intelligence that every boy and girl must cultivate within their hearts.
This kind-hearted Disney princess took the place of her ailing father in China's Imperial Army. With her will and determination, along with Mushu, her trusted guardian dragon, they have toppled down all the obstacles along the way and saved China from a disastrous invasion coming from the Huns.
Yes, Mulan maybe a little bit new for young kids, but she will truly bring nostalgia to older guests and gleaming eyes to the children.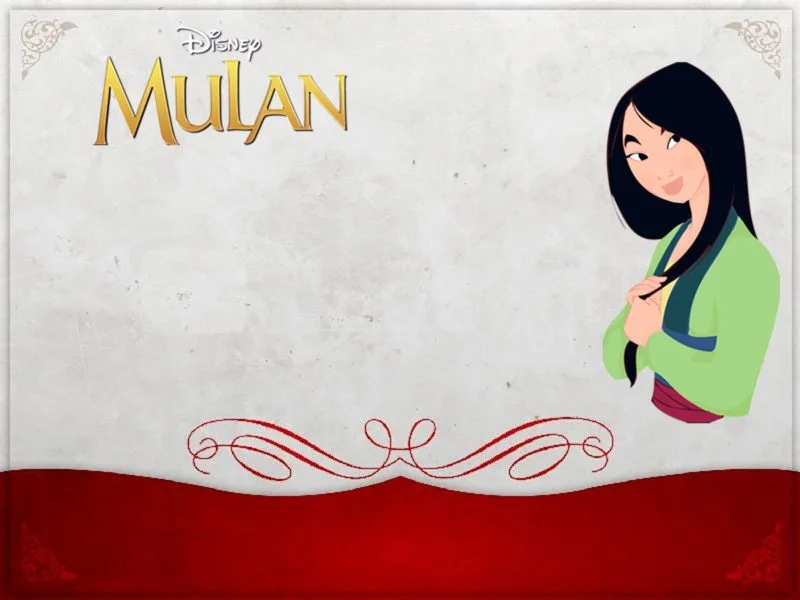 One thing that's impressive about Mulan and why you should include her in your party invitation is the reflection of how a great individual should be or should become. Like in her song, she may not be a perfect bride or a perfect daughter, but she is true to herself about who she is as a person and she continues to improve herself by training and experiencing life in various ways. The other characters in the movie can also be added color and layer to the movie that complemented to Mulan.
Her companions liking Chien-Po, Ling, and captain Li Shang helped her bring honor to her family, especially to her father.
The message that the character brings would make any birthday celebrant pumped up and be like Mulan in his or her own way. It brings out self-awareness, facing your fears, striving for greatness under pressure, and having this great love and honor for your family.
Free Printable Mulan Invitation Templates
On a different level, Mulan could connect to guests and other children in an event in a unique way. Mulan's humility and respect in the movie were shown after literally saving the Emperor by not accept any form of recognition or credit. It also shows the guest on how you want your son or daughter to become in the near future. That would also translate to the invitation by showing that Mulan is an Ideal role model for any kid who wants to be awesome and become a hero or heroine within themselves.
Whether she would bring the man out of you, find out the person worth fighting for in our lives, or show you on how to be true to your heart, Mulan Invitations will surely bring honor to you and your guests.